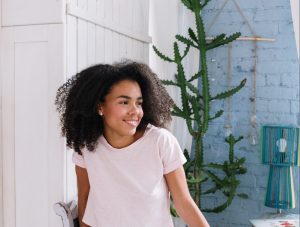 Yesterday, I celebrated my fourth Mother's Day with my daughter. I have complicated feelings about Mother's Day after spending years mourning our infertility and miscarriages and avoiding any celebration on that particular day. I now have a child and am a "real" mom, and I really enjoy getting to pick the restaurant where we eat lunch, but I find myself glad when the day is over. I love hearing my daughter say "Happy Mother's Day" and enjoy the flowers she gives me, but I spend a lot of the day thinking about her birth mom. I wonder what she's doing and how painful the day must be for her. I often think about this woman about whom I know nothing.
We adopted our daughter from an orphanage in Nigeria where she had spent ten of her twenty-two months of life. We don't know her birth mom's name and only have one sentence of information about her. I have no idea if her birth mom is still living or how she is doing, but when she pops into my mind I pray for her. Words can't express how grateful I am for her, and the life she gave my daughter.
Adoption wasn't something my husband and I ever thought we would do. We had planned to have two or three kids just like everyone else was doing around us. After seven years of no babies, we began the process of adopting from Nigeria, my husband's home country. In 2011, we had completed our home study and had gotten approval from U.S. immigration to adopt a child, so we traveled to Nigeria excited but nervous about this new adventure. We arrive in Jos, Plateau State and discovered that all state workers were on strike with no end in sight. This meant the Ministry of Women and Children's Affairs; the agency that processes the adoption was not functioning. We had planned to be there for three months and spent our days volunteering at a local ministry and praying for the strike to end. As our time came to an end the strike ended as well, but it was days before a national election, which meant that none of the state workers would be working for the next month or two. So, we came back home to the States and wondered what to do next. We had visited the state orphanage and saw many babies that needed families, so after two years we traveled back to Jos to try again.
My husband traveled ahead of me, made sure that everyone was working and that there was an actual child available for us to adopt. We decided to play it safe this time! To our joy, we found out a little girl had been chosen to be our daughter, so I quickly got my visa and flew to join my husband. I met my daughter on January 29, 2013, and we brought her out of the orphanage the next day. I don't remember much about those first few days. I was jet lagged and overwhelmed with the enormity of what we had taken on. We were total strangers to our daughter, and I was filled with sadness at the tragic losses, she had endured in her short life. She had a horrible sinus infection and malaria, so we got her some good medication, and spent our days hanging out at home getting to know each other. We spent two months together as a family of three in Nigeria as we worked on her U.S. visa. Though it was really stressful to not be sure when we would be able to travel home to the U.S., I'm so grateful we had that time to get to know our daughter before we came home and jumped back into our busy lives in the U.S.
Four years later, I'm still overwhelmed at the job of being a parent! But I'm so very grateful for the opportunity to raise our girl. She is truly amazing. I can't imagine life without her, and I can't imagine what we would've missed out on if her birth mom hadn't chosen to give her life. My daughter knows that she has two mommies, and we often talk about her "tummy mommy" and what she could be like. I wonder if my daughter's fabulous smile comes from her mom or her dad, or which one of them loved to sin and dance. One of the first thing I noticed about my daughter is her beautiful long fingers. I have always hated my short stubby fingers, and I was thrilled that I didn't pass them onto anyone else! My daughter couldn't be the fabulous girl that she is if it weren't for her biological family, but they weren't able to raise her, so she needed both families to give her the life she deserves.
We have started the process again to adopt from Nigeria. This time we're looking to add a little boy to our family. I still dread the long, expensive, invasive, and complicated process to adopt, but this time I know the end comes sooner than later, and it is all worth it. There can be many fears in adoption, but I have no fear that the little boy who joins us will be loved and adored just as his big sister is.
*Author: Sarah Ajero, originally posted May 21, 2017*